Live Make Over
We provide invaluable hands-on experience and share with the participants the professional techniques used by our Make-up Artists
Professional Make Up Artist will demonstrate proper facial care to all participants. Facial and cosmetic products by a famous product brand will be provided for live hands-on experience.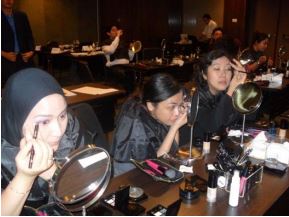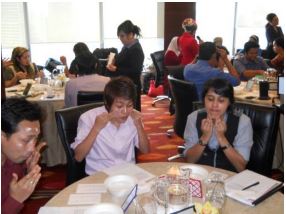 2 Participants may volunteer him or herself for the live makeover.
- A professional Hairstylist will cut and restyle upon participants agreement
- A professional Make-up Artist will demonstrate a live make over
- Exploring make-up techniques for Day, Night & Formal occasion & workplace
No personal make over is complete without the inclusion of make up. At Adamaya, we have just the thing for every occasion and need. For the bride-to-be, our experienced make up artist will transform you into a sight of true beauty on that truly special day. And if you are planning to attend an evening function, we have the expertise in making you the centre of attention.
Apart from bridal and evening make over, Adamaya also proves to be the preference of the entertainment industry. This is evident in our numerous make up sponsorships of famous Malaysian artistes and a variety of TV programmes. In addition, our make up artists are ever ready to do on location assignments such as theatre /films productions and magazine photo shoots.