I am Shawati
I am Enough
What you say to yourself matters. Change your thoughts and your life will change .
Learn More
Watch Video
What is Passion?
Your life journey depends on Passion ,the actions & hours you spend to LIVE IT that becomes your purpose that will also make your life meaningful.
Learn More
Watch Video
SHARIFAH SHAWATI SYED MOHD
Sharifah Shawati Syed Mohd is the founder and the Executive Director of ADAMAYA.
A brand name created with the names of her two children Adam & Maya of which when combined it becomes a unique meaning of " there's aura" in the english language. This brand meaning would signify to represent the positive aura that Adamaya promises in all its business ventures .
Adamaya started its business operations in 2006 operating a hair salon called Adamaya Hair Salon in Taman Melawati, Kuala Lumpur. The services included hair, make up & facial beautifying services.
After 4 years of operations, Adamaya began to diversify its business into producing its own consumer products such as toiletries , health accessories and gourmet food product called Hottie In Spice on its brand name 'Adamaya' in an OEM factory in Sungai Buloh Petaling Jaya and Cheras Kuala Lumpur.
Adamaya Consultancy And Services Sdn Bhd was formed as another diversification of business to provide Professional Image Branding consultancy services and event handling by providing Soft Skills trainings, seminar events and customised workshops for the local and international Corporate organisations , Government ministries , high learning institutions and Private Personal Coaching for individuals.
Adamaya Consultancy And Services Sdn Bhd has further expanded its business diversification to fashion retail with clothes & products creation by the founder herself Sharifah Shawati through its Adamaya Online Retail in Instagram business account adamaya.co & Facebook site called Adamaya Online Retail.
Sharifah Shawati's creation of her clothing brand with the brand name Adamaya is being sold at the online shopping platform called Zalora.com Malaysia, Ourshop.com on Airasia, adamaya.co Instagram business account and a physical store at Metrojaya Curve Petaling Jays Malaysia.
Adamaya has created its global brand presence through the international fashion arena such as the Couture Fashion Week In New York , Paris Fashion Week , Jakarta International Fashion Festival and fashion showcases in expos through out the Asian region.
Adamaya brand has been legally registered trademarked for services, products & manufacturing .
We are operating under Adamaya Consultancy And Services Sdn Bhd with HRDF claimable certification for training services .
Adamaya is binded by its promise and are committed to provide the most ethical , professional and quality services to its clients and customers with much efficiency and consistency in tact , professionalism, respect and finesse at all times .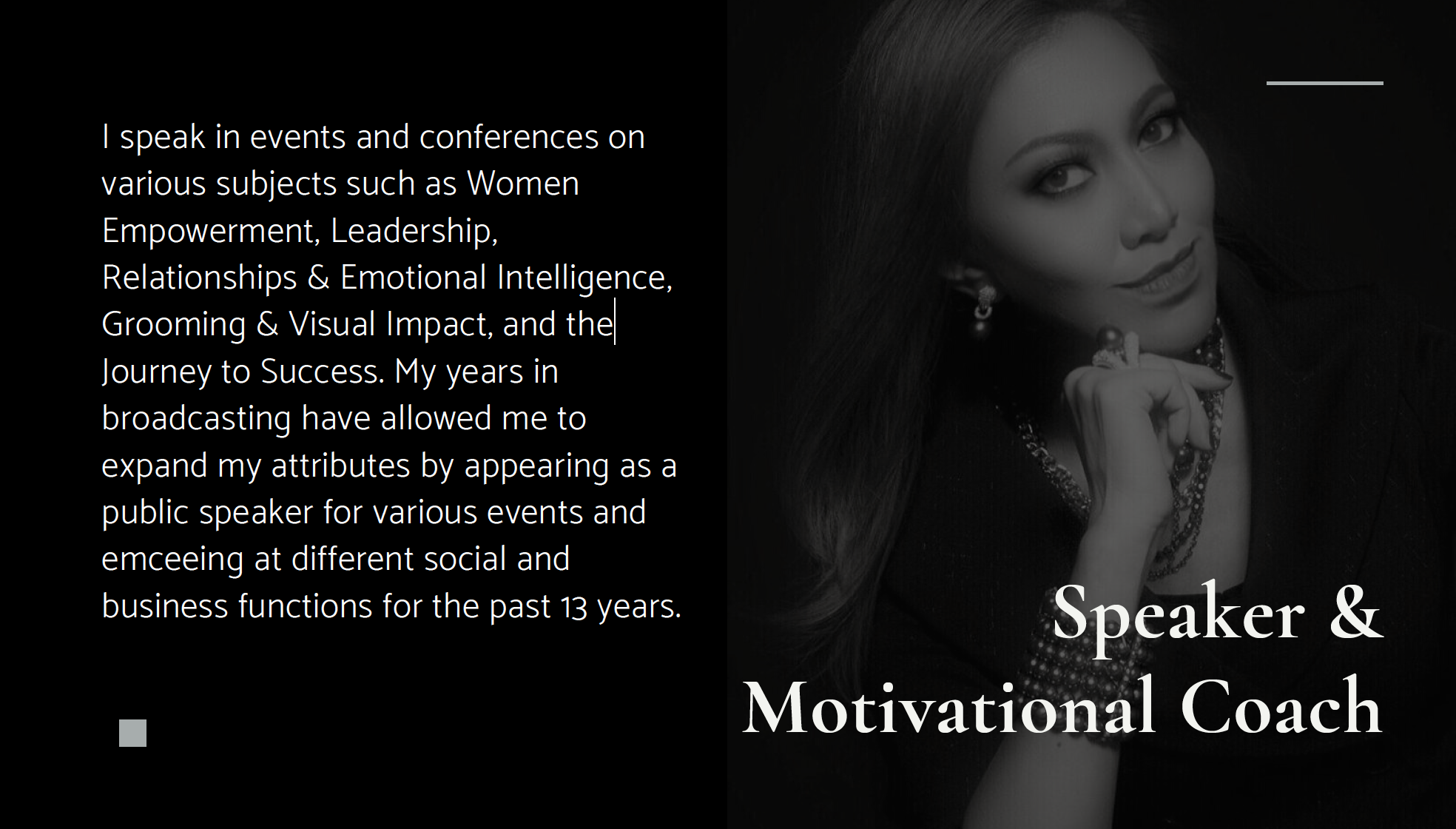 What we'll help you do here can be summed up in just five words, "Know and like you body".
Effective communication is all about conveying your messages to other people clearly and unambiguously.
Adamaya Fashion Brand & Showcases
New York Couture Fashion Week 2018
Paris Fashion Week 2018
Jakarta International Fashion Festival 2018
Malaysia Fashion Week 2016, 2017 & 2018
Our success is measured by results, the most important being how our clients feel about their experience with us. Happy customers and ongoing relationships are what we strive for. These reviews affirm that we're onto something.
Nurshuhada work in Bernama. Her job requires her to meet a lot of people. Communication skill is important for her. Click to watch her review about the training she attended.
Hamdan works in photo marketing department. His job requires him to meet and help assist people. Click to watch his review on our training.
Customer Service Executive
You need to be consistent in everything you do. You have to bring yourself well. Click to watch Pn Zaridah review on the training she attended.
It would be our obligation and pleasure to assist should you have further inquiries and information on our services.
OUR ADDRESS
Adamaya Consultancy And Services Sdn Bhd
Level 16, Pavillion Tower, Jalan Raja Chulan, 50200, Kuala Lumpur, Malaysia +603 2182 9749
CALL US
Trainings, Consultancy & Events Services:
+6019 917 1004