I AM SHAWATI, I AM ENOUGH
What you say to yourself matters. Change your thoughts and your life will change .
Learn More
Watch Video
SHARIFAH SHAWATI SYED MOHD
Sharifah Shawati Syed Mohd the Founder & Executive Director Of Adamaya Consultancy And Services Sdn Bhd Positive Image Coach , NLP Master Practitioner/ Author/ Entrepreneur/ Fashionpreneur/ Media Advisor

She is one of the special skilled trainers in Malaysia certified as NLP Master Practitioner by the International NLP Guru himself Michael J Hall . She was also trained & mentored by renowned international speakers such as Blair Singer, Andy Harrington , T Harv Eker & Anthony Robbins. /

Having served many corporate organizations & govt ministries local & internationally that benifited from her coaching on Professional Positive Image Enhancement, Communication & Public Speaking.

Many people would have seen this multi skilled individual anchoring the prime time TV news or hosting live talk show programs on Tv3 & Rtm not so long ago . And perhaps some might have attended her coaching & workshops on Grooming & Positive Image . You might have come across her clothing brand Adamaya on the runway which had been showcased in New York , Paris & Jakarta. She was awarded " The Most Promising International Designer Award" at the Malaysia/Asia Fashion Week organised by Stylo Mercedes Benz in 2017 and "The Best Next Designer Datuk Jimmy Choo award 2018 " at the Malaysian Fashion Week 2018 in Kuala Lumpur, Malaysia and was awarded by the famous maestro, Professor Datuk Jimmy Choo himself.

She has authored two books on women empowerment titled "Imej Anda Aset Anda" & "Smart Women Foolish Choices" with a mission to educate & empower women towards achieving confidence & mastering themselves from within to bring out their highest potential.

Through her Women Empowerment #IAmEnough Campaign , collaborating with a few NGO's in the country, and her being one of the Iconic Women in Malaysia , through an NGO called Wanita Ikon Malaysia, the main mission is to continuously , re-instil the sense of Self Love & Self Believe to curb self destruction and to heal individuals who have lost hope to survive in this ever challenging phase . Empowering and inspiring women are the main purpose of the on going campaign.

The key is to always believe that one is Enough to make things happen and for women to be independent and strong to keep surviving come what may.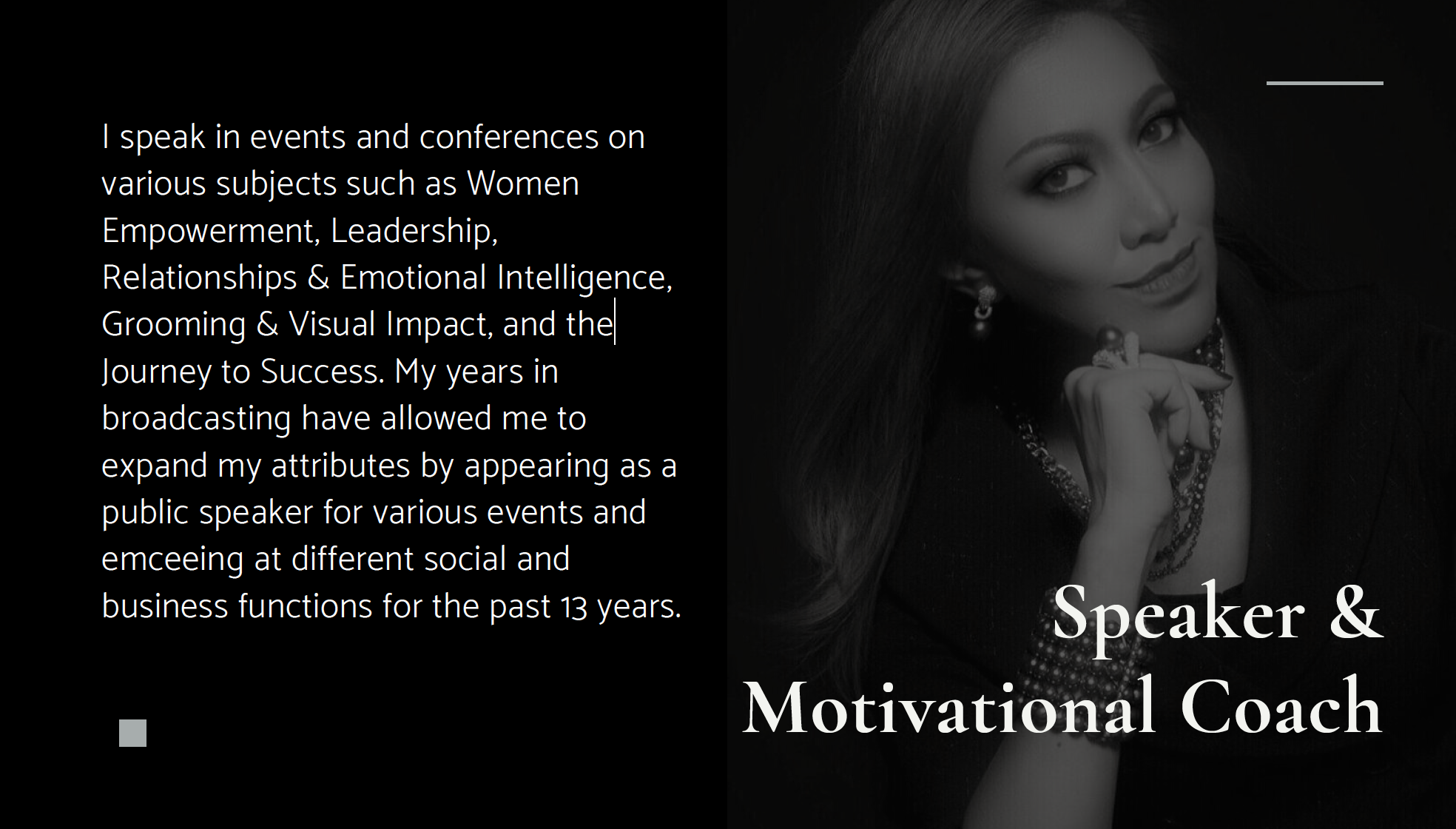 One to one private coaching with special customization on client's inclination of topics.
Acknowledge your figure challenges and learn how to camouflage your flaws and enhance your assets.
Learn about verbal and non-verbal communication, body language & mannerisms.
Adamaya Fashion Brand & Showcases
New York Couture Fashion Week 2018
Paris Fashion Week 2018
Jakarta International Fashion Festival 2018
Malaysia Fashion Week 2016, 2017 & 2018
Our success is measured by the positive testimonies of our clients. Feedbacks are very valuable to us in order to keep improving and provide quality content for the benefit of our clients.
It would be our obligation and pleasure to assist should you have further inquiries and information on our services.
Adamaya Consultancy And Services Sdn Bhd.
Level 16, Pavillion Tower, Jalan Raja Chulan, 50200, Kuala Lumpur, Malaysia
+603 2182 9749
Trainings, Consultancy & Events Services:
+6019 917 1004